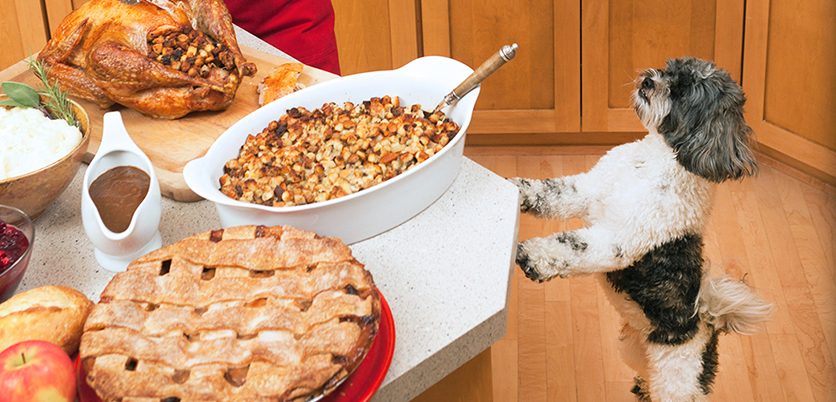 By JC McDowell
Thanksgiving is a time to come together with family and friends to celebrate the blessings in our lives. Our pets are part of our family, and certainly one of the blessings we want to celebrate. If you're like us, you will want to show thanks to your pet with some yummy food on Thanksgiving. But we need to be careful only to share food that won't have uncomfortable or painful side effects.
Rich, seasoned foods can turn a treat into sickness. You don't want your dog to end their day with a stomach ache, diarrhea, or worse, a trip to the vet. Steer clear from feeding your dog sugary, well-seasoned, or buttery dishes that will surely lead to discomfort. And don't give them anything with onion or garlic, as they are toxic to dogs.
Instead, share these traditional Thanksgiving foods that are safe and even have health benefits for your pet!
Turkey
We all know your dog is going to be eye-balling the turkey, drooling from the sight and smell of it. Thankfully, you can meet their craving and share some turkey with your fur baby. Try to limit them to a few pieces of skinless white meat appropriate for their size. But remember, turkey bones are not safe for dogs!
Sweet Potatoes
Sweet potatoes are a healthy option for your pet. They support digestive health, and most dogs find them quite tasty. Dogs can eat them raw, steamed, or boiled. But, be sure to set some aside for your pet before adding butter, brown sugar, or other seasonings us humans will indulge in on Thanksgiving.
Green Beans
Your dog will enjoy the crunch of a few raw green beans, and their tummies will be happy too. Green beans are full of iron, vitamin C, and high in fiber. Avoid giving your dog green bean casserole as most recipes include onions, garlic, and mushrooms, which are toxic to dogs.
Pumpkin Puree
As much as you may love pumpkin pie, you can't share it with your dog. However, you can think ahead and set aside some pumpkin puree for your pet. Sugar-free canned pumpkin puree, steamed pumpkin, or baked pumpkin are all good for your dog's gut before adding other ingredients.
Apples
Whether you are using apples for your stuffing, pie, or salads, be sure to set aside a few slices for your dog. Raw apples are a safe, juicy, crunchy treat they are sure to be thankful for.
Bread Roll
Bread dough is dangerous for your dog to eat, but a bit of baked bread won't do her any harm. A simple bread roll without butter is not necessarily healthy for your dog, but it is okay for her to eat. But, of course, no dessert bread packed with butter, sugar, or raisins.
Carrots
Carrots have lots of beneficial vitamins, antioxidants, and fiber for your dog. Dogs usually love the crunch of raw carrots, but probably won't say no to cooked (unseasoned) carrots either.
If you want to go all out, you can prepared on these 8 DIY Thanksgiving Dog Treat Recipes.
Serve Your Pet Like Your Family
Tossing food to your pet can lead to overfeeding and overindulging. Instead, treat your pet like the family they are and serve them a special plate. Prepare a dish for them with the dog-friendly Thanksgiving treats and place it in their wall mounted dog bowl so they can enjoy it in comfort. Your dog will thank you!
Read next: How Kitchen Dog Can Improve Your Pet's Joint and Digestive Health