The Story Behind Kitchen Dog…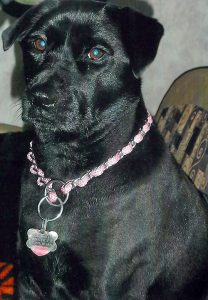 It all started with a dog. In April 2008, Terry Kasper adopted a Chow/Cattle Dog mix and named her Nikita. She fit right into the family and quickly earned herself the nickname "Kitchen Dog" due to her love for food and supervising all cooking and kitchen activity. Unfortunately, Nikita was suffering with a few health issues. She had a sensitive stomach and a wheezy cough that would cause her to gag.
After many vet trips and intensive tests, a restricted diet helped her stomach, but the wheezing was still a problem. One veterinarian suggested raising her food dish off the floor, since her cough may have been caused by a problem called megaesophagus. In megaesophagus, the esophagus is stretched or weakened, and unable to properly move food. An elevated bowl lets gravity help with swallowing.
With the recession and vet bills, Terry's budget was limited. To save money, he devised a system to mount the bowls to his wall using bowls he already had and some 1 x 12 wood in the garage. His idea went from concept to reality the next day when he mounted the bowl holder to his wall. While Nikita's cough was eventually diagnosed as bronchitis, Terry kept the mounted feeders because of the benefits of elevated feeding and how they made his life much easier. No more scattered kibble or spilled water bowls!
Many friends and family complimented Terry's mounted dish holder over the years, therefore, he decided to create a more affordable, easy-to-use design and that's when Kitchen Dog, Inc was born. Nikita passed away just before her 7th birthday. Kitchen Dog products are her legacy, designed to keep all fur babies happy and healthy!